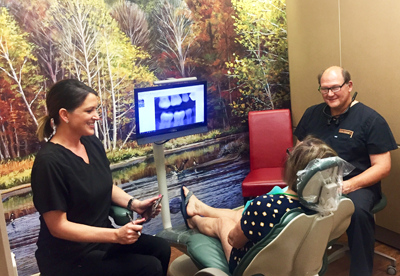 As a new patient enters our dental office, we work to emphasize our office philosophy from the start — to treat each and every patient with the integrity they deserve, and begin to build that dental relationship. As stated in our Services section, during your first appointment, we'll gather pertinent medical history and take you through a Comprehensive New Patient Exam.
With every new patient that steps into our office, our goal is to get to know you, your concerns and needs, and what brought you into the dental office. We learn about you so we know how to best manage your oral health and how that naturally integrates with your overall well-being.
We perform a thorough head and neck cancer screening, take the necessary digital radiographic and photographic images in order to best diagnose your treatment, perform a periodontal and occlusal evaluation, and finally evaluate your teeth.
As we are gathering information, we will formulate treatment plan options tailored to you and, after presenting you with your options, we will answer any questions you may have regarding your treatment options.
New Patient Forms
You may find the following forms here and download, print, and fill them out prior to coming in for your appointment at your convenience. From there, you will be welcomed to our practice by our front office team and then be invited back by another member of the dental team. You can familiarize yourself with our team on our website prior to your visit. We will look forward to meeting you and learning more about you!